Podcasts
Here you will find different links such as listen and repeat podcast, jokes and listen and read along just to name a few.
Improve your English vocabulary, grammar, and listening skills with the BBC. Our weekly 20 minute chat show includes features and interviews to help you practise and develop your English. We cover a range of topics using everyday informal English, highlighting useful words and expressions. Talk about English is presented every Thursday by the team from BBC Learning English including Callum Robertson, William Kremer and Jackie Dalton.
Learn and practise useful English language for everyday situations with the BBC. Your weekly instruction manual for saying or doing something in English is published every Wednesday. Each programme is six minutes long and contains examples and explanations to help you improve your knowledge of the English language across a wide range of topics.
Improve your English grammar with the BBC. Each week we challenge an English language student on an area of the English language such as verb forms, tenses, prepositions and pronunciation. Listen to a short presentation on the topic then try to answer the questions. The programmes are recorded on location in an English language classroom. Each episode lasts for six minutes and is made available every Friday.

Podcasting is a way to receive audio/video files over the Internet by using feeds to deliver them directly to your desktop. You can listen to/watch the files on your computer, load them on your portable media player and take them with you.

Watch or listen to the very best from ABC News whenever and wherever you want! 

Want the latest breaking news? Breakthrough reports on your health and money? Want the inside buzz from the politics of Washington and the stars of Hollywood? 

Plus, get the best from Good Morning America, World News, Nightline and This Week.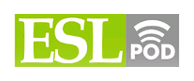 English for Everyone.
For many people around the world, learning English is very important. Unfortunately, there are very few useful, effective sources for learning English. Most people take English classes, which help them up to a certain point. ESL Podcast is designed to help you continue to improve your English.
The Learning Guide at www.archiecomics.com/podcast has a complete transcript of the lesson including a glossary, sample sentences, comprehension questions and cultural notes. Very interesting.
Here you will find a mix of different Business podcasts from travel, meetings, interviews to mergers. Great variety.
http://www.businessenglishpod.com/business-english-podcast-lessons/
Here you will find a variety of podcasts for the ESL learner.