Archive for August, 2009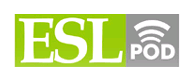 About ESL Podcasts
We believe the fastest way to improve your English is to listen to conversations and discussions you can understand. Many people try to improve their English by listening or reading things that are too difficult. They understand only 40-50%, which means they are wasting half of their time!
At ESL Podcast, we provide English at a slower speed and use everyday phrases and expressions. We explain what these expressions mean and how to use them. That's all! It's simple, it's obvious, and it's very powerful.
http://www.eslpod.com/website/show_all.php?cat_id=-48613&Submit=Go
The Visual Dictionary Online is an interactive dictionary with an innovative approach.
From the image to the word and its definition, the Visual Dictionary Online is an all-in-one reference. Search the themes to quickly locate words, or find the meaning of a word by viewing the image it represents. What's more, the Visual Dictionary Online helps you learn English in a visual and accessible way. The Visual Dictionary Online is ideal for teachers, parents, translators and students of all skill levels. Explore the Visual Dictionary Online and enrich your mind. Perfect for home, school or work. Discover a visual world of information!
English Club
Each month EnglishClub.com creates a digest in easy English with four short audio news reports from the past 30 days. With this resource you can practise your listening, reading, writing and even speaking.
Financial Times
Here you can find world business, finance and political news from the Financial Times. Great link for vocab, podcasts and videos. Keep up-to-date.
Welcome to ESL Links – this is the place to find the right ESL exercises, podcasts, books etc. for your level. Please feel free to subscribe to my updates, since I will be adding new content every week!
You can navigate this page in 2 ways:
Click on the different categories found at the top of the page, the posts are separated into the different levels of ESL English.
Go through the posts one by one until you find what you are looking for.
Also, I would love comments and feedback for articles, websites, blogs  and more for all those ESL learners.
Have fun and start learning.
Back Cover

It presents vocabulary and language patterns related to the business environment and common business situations. Topics covered in the book include making and receiving business telephone calls, giving presentations, participating in meetings, socializing with business contacts, negotiating deals, and writing business letters and documents.

Features:

* Key vocabulary lists for each lesson

* smaple phrases, sentences, paragraphs illustrating common business language structures

* cross-cultural tips and golden rules for effective communications

* dialogs illustrating vocabulary usage in context

* exercises for vocabulary usage in context

* answer key for exercises

* audio CD of the first exercise on every exercise page
Product Description
Learning to speak clear, persuasive English in business situations presents a challenge for many ESL (English as a Second Language) students. Based on the popular Ultimate advanced-level courses, Business English helps professionals take their English language learning to the next level so that they can apply those skills to real-world situations—in the workplace, at school, and even at home.

Twenty lessons help students improve their English through true-to-life dialogues, practical idiomatic expressions, and examples of grammar and vocabulary usage. Extensive cultural notes describe business culture in America, as well as the ins and outs of daily American life. Four 60-minute CDs with dialogues from each lesson complete the package and add value to this information-packed program! Plus, an extensive appendix includes a guide to English grammar, vocabulary, and list of industry-specific terms.
Product Description
Guidelines and pointers for adding clarity and persuasiveness to business writing

Filled with the contemporary case studies, handson exercises, and self-tests that are the trademark of McGraw-Hill's 36-Hour series, The McGraw-Hill 36-Hour Course in Business Writing and Communication shows readers what they must do to craft a strong message and deliver that message in e-mails, memos, reports, and more.
Product Description
Based on the actual writing and speaking styles of leading business executives worldwide, this book features easy-to-follow instructions and techniques for preparing polished written documents and writing and speaking in an articulate manner. Focusing on how leading business professionals really communicate, the basics of writing and speaking, including traditional grammar and speaking dos and don'ts, are covered. Examined are the particular styles in which business professionals communicate with each other and how to develop a personal professional style. Featured are special sections on writing memos, offer letters, e-mails, and other business documents that business professionals need to master.
Amazon.com Review
Whether you seek protocol on accepting a formal invitation, turning down a job offer, challenging your credit record, writing a condolence letter, or penning a collection letter, How to Write It can help. With precision and humor, Sandra E. Lamb provides reliable guidance on all forms of written correspondence; for each type of communication, she considers such issues as content, wrong messages (how to eliminate them), format, effective writing, and editing.